Professional Speaker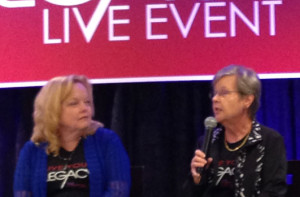 Pat delivers engaging, interactive presentations on how to polish your writing so that you can share the gift of your knowledge with others. IMPORTANT: All of Pat's presentations are customized, ensuring a true win-win for event hosts as well as their attendees. She works with you to understand your audience, concerns, and goals for the presentation.
Does Pat do media presentations?
Yes, Pat has shared her expertise on TV shows as a guest on CBS, on radio shows, and on podcasts. To invite Pat to your show, contact her using the short form on this page or call 908-391-7933.





Will Pat participate in podcasts and online training?
To find out more about having Pat present virtually to your audience, contact her using the short form on this page or call 908-391-7933. International clients should call 001 908 391 7933.
Story Angles/Topics
How can you improve your writing?
What are the pros and cons of independent publishing and traditional publishing?
How can you monetize a book?
Samples of TV Interviews with Pat Iyer
What does Pat's membership in the National Speakers Association mean to me?

The 3,600 member National Speakers Association consists of experts who speak – a description that fits Pat. Since 2008, after meeting the qualifications to join, Pat has been a proud member of this premiere organization for professional speakers.
She continues her professional education through NSA workshops and conferences, specifically designed to help speakers improve their platform skills, grow their speaking businesses through new technology and techniques, and deliver excellence for their audiences.
To set up a presentation with Pat, contact her via the contact form to the right or call 908 391 7933.
---
How do I find out more?
Complete the checklist on the side of this page or call Pat at 908-391-7933.