Questions about our programs?
MP3
Price: $47.00

Transcript
Price: $47.00





After purchasing one of the above formats for $47,

add an additional format (e.g. webinar + transcript) for only $20 each! Save $27!
MP3
Price: $20.00

Transcript
Price: $20.00

NEW! Also available as part of our Medical Malpractice Value Pack: 10 products at a savings of $200.00!
Program Description

The "golden hour" right after trauma is the time to achieve the maximum benefit for the trauma patient. Learn from Peter Fielding, MD, an experienced surgeon and expert witness about the importance of a patient history and physical exam as the basis for prompt surgical referral decisions. Learn what will increase the quality of patient care, reduce complications, improve results and greatly diminish the opportunity for medical malpractice litigation. Identify the standard of care for making surgical decisions in the presence of abdominal injuries.
Evaluation and Post-Test for CEUs (pdf)
Presenter

Peter Fielding MD, FRCS, FACS is a board certified general and colorectal surgeon who also specializes in wound care. He is a professor of clinical surgery at University of Pennsylvania and Pennsylvania State University College of Medicine. Dr. Fielding has a lengthy list of articles in peer reviewed journals. He is an expert witness for surgical cases.
Peter answered these questions:
What does the subtitle in "Acute abdomen, when the emergency department physician and the surgeon come to blows" mean?
What are the symptoms common to bowel obstruction, bowel perforation and bowel ischemia?
Why is time of the essence when abdominal catastrophes are developing?
Why is it challenging for the surgeon to work with emergency department physicians?
What happens inside the abdomen which ultimately can end up resulting in the patient dying?
What happens when there is a bowel perforation?
Why is a trauma specialist more attuned to signs of bowel perforation?
What is the significance of free air in the abdomen?
What does this phrase mean, "People die of sepsis; they do not die of anesthesia"?
Are there any gold standard diagnostic tests that are very helpful in coming up with diagnoses related to abdominal catastrophes?
What are the issues that might lead on to a more timely surgical consultation?
Is there a diagnostic protocol for detecting abdominal complications?
Is it appropriate to give pain relieving medications to somebody coming in with abdominal pain?
What are a few examples of medical legal cases involving abdominal catastrophes?
What is the role of the emergency department nurse in the diagnosis of abdominal injuries?
What kind of cases would a plaintiff attorney reject right away when there was some type of an acute abdominal problem?
Related Programs
From Triage to the Courtroom: Legal Risks in ED Practice
by Christine Macaulay, MSN RN CEN
Why is the triage seat in the emergency department the hottest one? Learn how the intricacies of the triage role can create or avoid patient injury or allegations of ER nursing malpractice or negligence.
Secrets of Success for Working as an Inhouse LNC
by Elizabeth K. Zorn RN, BSN, LNCC
Is working at a law firm right for you? How can you create the most value for your skills? What are the pros and cons of this fast-paced role? An experienced LNC employed by a prestigious plaintiff law firm shares her knowledge on how to maximize the role of the inhouse LNC.
*Have you checked out our information on the Learning Circle? Learn this valuable information at a discount when you join the Learning Circle.
Related Products
Certification Preparation for the LNCC Exam
This modular home study course provides an overview of the key areas of practice. It is of value whether you are ready to sit for the LNCC exam or simply want to expand your knowledge and grow your practice. Material is presented in the same proportion as covered by the LNCC examination. Our test uses the same test format as the LNCC exam.
Presented with PowerPoints and audio files, the complete DVD package includes approximately 8 hours of content provided by experienced legal nurse consultants, Rose Clifford and Patricia Iyer. There are over 700 slides and a 100-question practice test.

Screening Potential Medical Malpractice Claims
Peter Berge, Esq., P.A., is an experienced medical malpractice and negligence attorney who will help you spot the claims that potentially have merit- from both the medical and legal perspectives. He will provide tips and pearls for use in the methodical screening of potential malpractice claims, using the elements of negligence as a practical framework. Legal nurse consultants will gain invaluable information that will help them more effectively guide their attorney clients.
View more information or purchase here.
Medical Legal Aspects of Medical Records, Second Edition is the reference of choice for cases involving medical records and their use. The book has been divided into two volumes for ease of finding the information you need. Both volumes have been updated to give you the latest information, as recent changes in legislation and technology have changed the medical records process. The authors have designed this work to give extensive information on the HIPAA policies, standards initiatives, legal use of records, billing and coding, and computerization of records and record keeping systems and how they apply in forensic situations.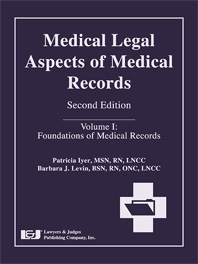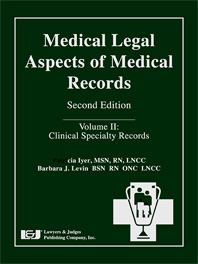 Volume I (Blue), 416 pages
Price: $89.00



Volume II (Green), 672 pages
Price: $129.00


Both volumes: Save $19!
Price: $199.00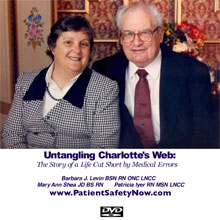 Untangling Charlotte's Web DVD
Charlotte was a woman who died as a result of medical errors.
Her story has stunned audiences nationally and internationally. This program presents a multimedia overview of the events that led up to Charlotte's death, and the changes that resulted from her life events. You'll learn how her story made patient care safer for all.
Price: $97.00