Questions about our programs?
Digital Download**
Price: $47.00

MP3
Price: $47.00

Transcript
Price: $47.00





After purchasing one of the above formats for $47,

add an additional format (e.g. webinar + transcript) for only $20 each! Save $27!
Digital Download**
Price: $20.00

MP3
Price: $20.00

Transcript
Price: $20.00

** Replay allows you to download a recording of the webinar that contains the video of the presentation. PowerPoint slides will be included with the purchase of any of the above formats.
Program Description

This program is designed for Legal Nurse Consultants.
Keywords: wound care, chronic wound, negative pressure wound therapy, interprofessional wound care
Negative pressure wound therapy (NPWT) includes an increasing number of devices to stimulate wound healing by reducing swelling and drainage and creating a local environment that enhances healing. NPWT is a widely accepted modality by the international wound care community. Use – and misuse – of NPWT is on the rise. Internationally known nursing expert witness Dr. Diane Krasner shares her expertise in this multimedia program. There are standards of care that must be adhered to if adverse outcomes are to be avoided. Clinicians and legal professionals must be aware of the potential problems and devastating complications related to caring for complex wounds with NPWT. Facility guidelines that do not meet the standard of care for complex wound care with NPWT leave the facility open to adverse events and possible litigation. A team approach is essential to optimize outcomes when NPWT is utilized.
Our presenter, Diane L. Krasner PhD RN CWCN CWS MAPWCA FAAN, is the lead co-editor of Chronic Wound Care: A Clinical Source Book for Healthcare Professionals (4th edition, 2007) www.chronicwoundcarebook.com. She is a Certified Wound Care Nurse (WOCN), Certified Wound Specialist (AAWM) and Master of the American Professional Wound Care Association (APWCA).
In this one hour webinar you will learn how to:
Explain the rationale for the use of negative pressure wound therapy (NPWT)
Evaluate the standards of care for the entire healthcare team related to the use of NPWT
Identify sources for standards of care for NPW
Recognize common problems related to the use of NPWT that leave facilities open to adverse events and litigation
Analyze a complex wound case involving NPWT and a wrongful death
As an added bonus, you will receive:
Six Sticky Wickets of Wound Care
Chapter 1 from Chronic Wound Care
Presenter

Dr. Diane L. Krasner is a board certified wound specialist with experience in wound, ostomy & incontinence care across the continuum of care. She is a Fellow of the American Academy of Nursing and a Master of the American Professional Wound Care Association. Dr. Krasner is a Wound & Skin Care Consultant in York, Pennsylvania and works part-time at Rest Haven – York as the WOCN / Special Projects Nurse. Krasner graduated from The Johns Hopkins University with degrees in Ancient Near Eastern History and Egyptology. She went on to receive her Bachelors, Masters and PhD from the University of Maryland School of Nursing and a Masters in Adult and Continuing Education from Johns Hopkins School of Continuing Studies. Dr. Krasner was a Johnson & Johnson Medical Post Doctoral Fellow at the Center for Nursing Research at Johns Hopkins University School of Nursing.
Dr. Krasner is the lead co-editor of Chronic Wound Care: A Clinical Source Book for Healthcare Professionals (4th edition, 2007, HMP Communications). She currently serves as the clinical editor of the Kestrel Wound Product Source Book. Krasner is also on the editorial boards of WOUNDS, The International Journal of Wound Care and World Wide Wounds. Since 1992 Dr. Krasner has served on the Board of Directors and as an Officer of several national wound care organizations, including The American Academy of Wound Management, The Association for the Advancement of Wound Care and The National Pressure Ulcer Advisory Panel. Dr. Krasner's research interests include wound pain, palliative wound care and legal issues related to wound care. She has numerous publications in the wound care literature and lectures nationally and internationally on wound & skin care.
Moderator: Patricia Iyer MSN RN LNCC
Related Products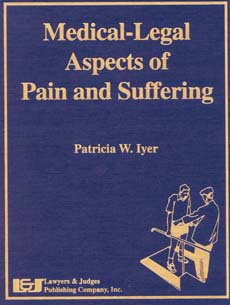 Medical-Legal Aspects of Pain and Suffering
There is no other book devoted to the assessment, management and presentation of pain and suffering. Written by experienced clinicians and attorneys, this book will help the healthcare professional understand how to better alleviate pain and suffering, and the attorney more effectively litigate claims. A unique blend of authors have contributed solid material covering a range of concerns on this hot topic. This book is loaded with practical information, medical illustrations, figures and tables, pain assessment forms, sample and questions for direct examination of witnesses.
Price: $139.00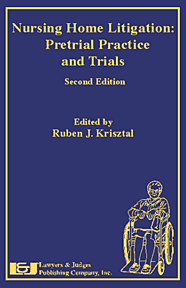 Nursing Home Litigation: Pretrial Practice and Trials

Topics include:
Handling older witnesses: the defense perspective
Preparing nursing home staff for deposition
The preparation and use of demonstrative evidence
Fighting fraud in long-term care
Voir dire, opening arguments and closing arguments
Punitive damages
The role of nutrition
The Medicare "super lien"

Price: $119.00

Nursing Home Litigation: Investigation and Case Preparation

The authors have applied their unique skills as attorneys, physicians, nurses, pharmacists, administrators, claims adjusters, and expert witnesses to bring you current information that will help you litigate these claims. Descriptions of recent nursing home settlements and verdicts are woven into the book.
The book starts with an overview of legal strategies with a focus on screening cases for merit, discovery techniques, and the role of the legal nurse consultant. The emerging area of liability in assisted living and pain mismanagement is included.

Price: $149.00

*Have you checked out our information on the Learning Circle? Learn this valuable information at a discount when you join the Learning Circle. Get the Instant Access or the Monthly Plan.